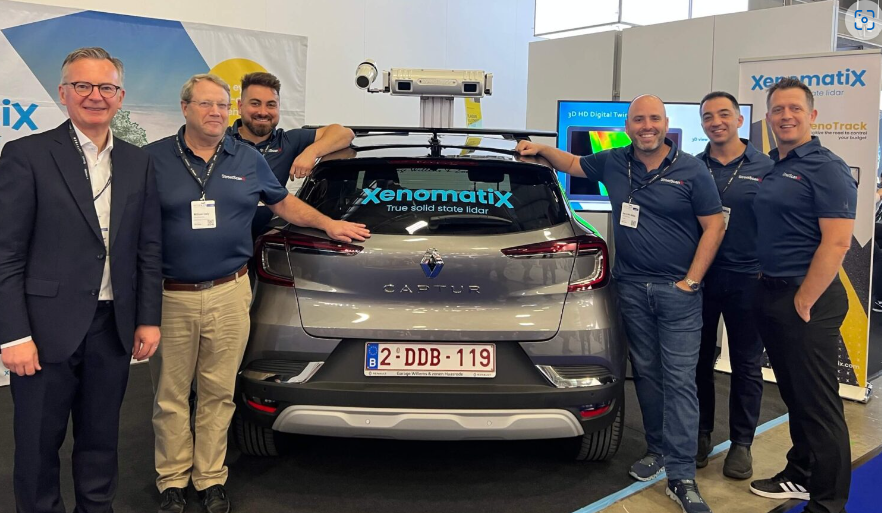 StreetScan and XenomatiX Collaborate to Advance Road Inspection
BERLIN- 10.10.23 – During the Intergeo event in Berlin, StreetScan, a Massachusetts-based company specialized in road inspection and data collection services, received its first XenoTrack road lidar system from XenomatiX, a pioneer in true-solid-state lidar technology.
With the adoption of the XenoTrack system, StreetScan is set to innovate road inspection practices.  Leveraging state-of-the-art lidar technology, StreetScan can now conduct road assessments on a larger scale while simultaneously streamlining costs and minimizing inspection times. Moreover, XenoTrack user-friendly interface ensures that all team members can utilize it effectively, contributing to increased efficiency and productivity.
Streetlogix software by StreetScan offers a powerful GIS interface that enables agencies to plan their road management budget with accuracy and ease.Thanks to Streetlogix and the rich data generated by XenoTrack, StreetScan can now allocate resources with precision, optimizing its road maintenance efforts to enhance road safety and quality.
''We are thrilled to embark on this collaborative journey with StreetScan," said Filip Geuens CEO at XenomatiX. "Our XenoTrack system is designed to deliver cost-effective and data-rich road inspection solutions, and we are confident that this partnership will contribute significantly to improving road safety."
StreetScan's CEO, Jon-Erik Dillon, also expressed enthusiasm about the collaboration, stating, "The XenoTrack system aligns perfectly with our commitment to excellence in road maintenance. We believe this collaboration will set new standards in our industry and benefit our clients by enhancing the quality of data that will flow into our Streetlogix Asset Management platform for advanced decision-making purposes."
Both XenomatiX and StreetScan are looking forward to the opportunities this collaboration offers as they combine cutting-edge technology with industry expertise to advance road inspection practices.
For more information about XenomatiX and StreetScan, please visit www.xenomatix.com and www.streetscan.com & www.streetlogix.com , respectively.
About StreetScan
StreetScan is a premier data provider and analytics company serving smart cities' transportation infrastructure needs. Our comprehensive suite of services, including infrastructure assessments and ADA Compliance surveys, coupled with our intuitive, GIS-based transportation asset management software, empowers municipalities to make well-informed decisions and embrace sustainable practices. Streetlogix software provides robust visualization and analytical tools, maximizing the use of collected assessment data to drive optimized budgets. This powerful toolset has enabled municipalities to create defensible data-driven Capital Improvement Plans while successfully justifying budgeting requests. With a dedicated team of over 50 professionals spanning two countries, we are committed to ongoing expansion and growth. Our mission is to continue forging partnerships with new communities across North America, catalysing progress and innovation in the realm of transportation infrastructure.
About XenomatiX
XenomatiX designs true solid state lidars based on a unique multi-beam laser concept and mature, scalable, semiconductor technology. Its solutions are built to improve road safety and road comfort. XenomatiX offers different product lines to serve different industries and applications: the road surveying system, XenoTrack, which collects and processes 6D data ideal for paving, surveying, and pro-active suspension; a lidar module for customization and easy integration, and, to push forward autonomy, XenoLidar, a true solid state lidar which delivers high resolution and accurate point cloud data for perception capabilities.  XenomatiX products have been recognized by international competition programs like the IRF GRAA award and the CES Innovation Award.  The company employs about 50 employees in Belgium, Germany, US and China, and has a solid global distribution network