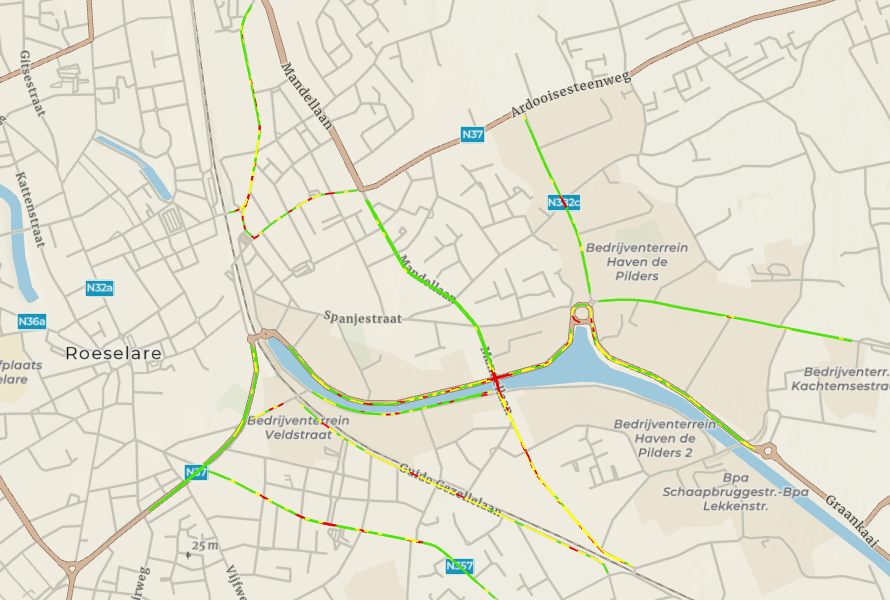 ArcGIS now hosts Road LiDAR data
When combining ArcGIS, the world's most powerful mapping spatial analytics software from Esri, and the digital data from XenomatiX' Road LiDAR, users are offered an overview on the road condition in a glance, find the spot that needs attention and easily understand the cause and the remedy to be planned, all with high accuracy in data and geospatial context. Today, Esri BeLux and XenomatiX announce that their cooperation will carry out in-depth collaborations in the fields of road asset management.
XenomatiX focuses on '6D road scanning' products and services using its Road LiDAR, XenoTrack, designed to deliver millimeter precision digital twins of the road, including quality measures like longitudinal and lateral evenness.
In March 2022, XenomatiX announced a new version of XenoTrack based on the latest Lidar technology for autonomous vehicles and advanced driver-assistance systems (ADAS). The new XenoTrack comes with enhanced functionality and a fully integrated total solution with HD camera and RTK GNSS. Road characteristics such as the international roughness index and rutting index are quantified while driving and provide road management and construction companies with a fast assessment of pavement quality.
XenomatiX and Esri BeLux signed a partnership to pro-actively exchange and support on applications and use cases serving both customer bases. XenomatiX uses and promotes ArcGIS for visualisation of the digital road and its quality indices, pinpoint the added value with information layers of above and underground assets. Uploaded on the ArcGIS platform as an extra layer, users can easily determine the status of their road network above ground, evaluate the status of utility conducts below ground and make sound decisions, efficiently using the budget 'first time right'.
ArcGIS host nu Road LiDAR data voor openbaar en particulier wegbeheer
Door ArcGIS, 's werelds krachtigste mapping spatial analytics software van Esri, te combineren met de digitale data van XenomatiX' Road LiDAR, krijgen gebruikers in één oogopslag een overzicht van de wegconditie, vinden ze de plek die aandacht nodig heeft en begrijpen ze eenvoudig de oorzaak en oplossing die er moet komen. Dit alles met hoge nauwkeurigheid in data en geospatiale context. Vandaag kondigen Esri BeLux en XenomatiX aan dat ze diepgaand gaan samenwerken op het gebied van road asset management.
XenomatiX richt zich op '6D road scanning' producten en diensten met behulp van haar Road LiDAR, XenoTrack, ontworpen om millimeter nauwkeurige digitale tweelingen van de weg te leveren, inclusief kwaliteitsmetingen zoals longitudinale en laterale vlakheid.
In maart 2022 kondigde XenomatiX een nieuwe versie van XenoTrack aan op basis van de nieuwste Lidar-technologie voor autonome voertuigen en geavanceerde rijhulpsystemen (ADAS). De nieuwe XenoTrack wordt geleverd met verbeterde functionaliteit en een volledig geïntegreerde totaaloplossing met HD-camera en RTK GNSS. Wegkenmerken zoals de internationale ruwheidsindex en spoorvorming worden tijdens het rijden gekwantificeerd en bieden wegbeheer- en bouwbedrijven een snelle beoordeling van de kwaliteit van het wegdek.
XenomatiX en Esri BeLux hebben een partnerschap gesloten om pro-actief applicaties en use cases uit te wisselen en te ondersteunen ten behoeve van beide klantenbestanden. XenomatiX gebruikt en promoot ArcGIS voor de visualisatie van de digitale weg en zijn kwaliteitsindices, waarbij de toegevoegde waarde met informatielagen van boven- en ondergrondse assets wordt vastgesteld. Dit wordt geüpload op het ArcGIS platform als een extra laag en zo kunnen gebruikers eenvoudig de status van hun wegennet bovengronds bepalen, de status van nutsleidingen ondergronds evalueren en weloverwogen beslissingen nemen, efficiënt gebruik makend van het budget 'first time right'.