NCAT Compliant
XenomatiX informs its customers that the road lidar, XenoTrack, has proven to be compliant with the NCAT (National Center for Asphalt Technology) requirements. The largest and most recognized asphalt research center in the US.
Recently, NCAT evaluated the accuracy and repeatability of IRI and Rutting of the XenoTrack system, including the detailed distance accuracy. The results were outstanding:
XenoTrack passed the repeatability test with a score of >93%
XenoTrack passed the accuracy test scoring >96%
XenoTrack passed the distance accuracy test with a score of > 99,85%.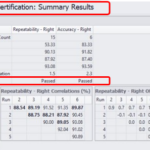 Contact our team to get a complete overview of the test results and find out how XenomatiX can support your company with the NCAT certification process.