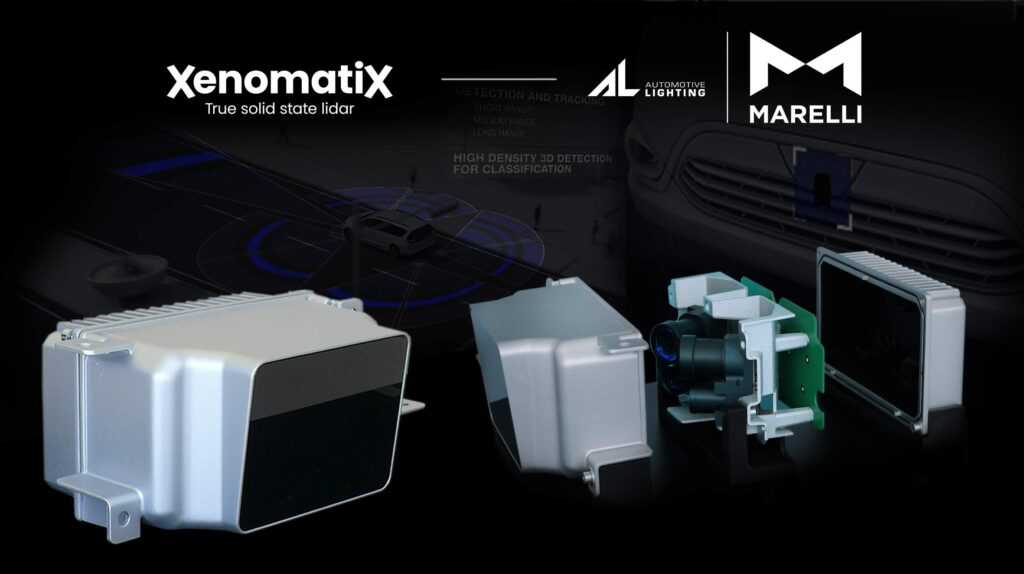 Interview with Yole
Adoption of automotive LiDAR: it is now the time for convergence and consolidation – An interview with Xenomatix and Marelli Automotive Lighting
Extract below, full interview availble here
Yole: Could you tell us your vision of the LiDAR industry today?
FC: After a period of intense technology exploration, a time of convergence and consolidation has started. It is becoming more clear which solutions will prevail. Multi-beam solid-state LiDAR is definitely one of them.
The push from the automotive industry for LiDAR solutions is increasing. Due to safety and reputation concerns, a growing number of OEMs will be taking the direction of full AD in specific operation domains and certainly call for LiDAR to deliver autonomy.
Now it's a matter of industrializing and letting mature the solutions that have survived the experimental phase. Here, we focus on offering robust sensing solutions from ADAS L2+, up to enabling full autonomy. Current developments are mainly driven by China and the USA, where there is greater market acceptance. We also see regulations evolving in other places, such as the UK DoT which will soon release L3 hands-free automated lane-keeping systems (ALKS), even though vehicles must still run at low speeds and a full self-driving solution is not yet allowed. The German Federal Government will also allow L4 operations in some restricted public roads by 2022. This will help to see more activity in the EU, where most AD programs have been delayed, as we will see in the next point.
Yole: What was the impact of the COVID-19 pandemic on the LiDAR industry? On Xenomatix' and Marelli's business?
FG & FC: The pandemic clearly slowed down the entire automotive industry. Budgets have been reduced, and more importantly, everybody has been struggling and still struggles, with issues related to supply and production restart. The electronics supply crisis, a side effect of the health crisis, had a sever impact as well.
Also, as a result of the pandemic, the preference for private transportation became stronger. For health reasons, private transportation seems again to be more attractive than ride-sharing. Along with more home working, fewer traffic jams will result in a shift from public transport to more private driving.
Even so, growing public demand for "going green" remains, and city strategies for new mobility are still being enforced. They include not only the expansion of bicycle lanes, but also shuttle solutions. Important launches in this area occurred during the pandemic. Additionally, these higher levels of automation will enable a commuter to work while being transported, which will compete with homeworking.
Clearly, in 2020 our business was affected by COVID-19. However, less customer interaction resulted in more focus on product development which will be beneficial in the longer run.
Yole: Please describe the technical development you have recently completed for LiDAR.
FG: Our teams are constantly being built up to support our expanding technical developments.
As a result of our constant optimization, we've made our LiDAR 3-times smaller. In addition, it consumes only half as much energy as before, and we increased the number of laser beams by a factor of 3.
We have worked on the industrialization of solid-state LiDAR. A good technical concept is one thing; setting up a supply chain and making the product manufacturable and affordable is another.
While preparing for serial production, we have worked on refining our manufacturing processes and, in parallel, reinforced our Neural Network (NN) training with more km driven to increase our system robustness.
Yole: LiDAR integration is an important facet of automotive applications. According to Xenomatix and Marelli, what are the current challenges?
FG & FC: LiDAR is expected to solve many (corner) cases, especially when fused with radar and camera. Yet, it seems an unfair battle. LiDARs are expected to be as cheap as 15-year-old camera and radar technology as of day one. At the same time, they are expected to see nearby, far away, and in all directions simultaneously, with human precision. Moreover, LiDAR is expected to deal with all weather and road conditions where camera and radar struggle.
The biggest issue is, therefore, the decision on what are fair and reasonable applications for LiDAR to ensure it deserves its place in vehicles.
And yet, novel LiDARs will enable Decision ECUs to make faster decisions and master difficult situations, such as increased speed or intermingling, such as lane changes or lane merges. More sensors, able to share more accurate information, will be needed before even more futuristic solutions, such as Cooperative Adaptive Cruise Control (CACC), can also be implemented.
Indeed, more sensors positioned around the car, including LiDAR, pose a significant integration challenge with respect to styling, by limiting unnecessary protrusions and dealing with space limitations from structural body parts.
Yole: What will be the key technologies required to overcome these challenges?
FC: Marelli Automotive Lighting, the initiator of the Smart Corner® solution, offers the integration of sensors into lighting elements and clusters, taking advantage of existing production knowledge and footprint for exterior parts located in strategic locations offering an unobstructed view for sensing elements.
Dealing with adverse conditions is a critical challenge for LiDAR. We believe that imaging LiDAR (e.g., LiDAR making use of a CMOS detector for inherent sensor fusion) is a great way to achieve this. Imaging LiDAR can measure distance, as a LiDAR is supposed to do, but it can also take images to check for contamination (by mud), scatter light (by fog), spoofing (by other light sources). Our solution offers strong capabilities in dirt detection and in direct, efficient cleaning.
Yole: The grille was the first location chosen by OEMs to position a LiDAR. Headlamps are also becoming more and more of interest to integrate these components. What other locations are you investigating and why?
FC: Two things are of the essence: clear view and aesthetics. The LiDAR should not have undesired blind zones. At the same time, the device should not draw attention. Currently, it can be placed in the grille and in exterior front and rear lighting (Smart Corner). These options respond optimally to styling requirements as well as to demands of cost, space, and weight. Other locations are being reviewed in order to cover any problematic use cases in the above-mentioned scenarios. Therefore, LiDAR may be positioned in many different positions on the vehicle to monitor all directions. In and of itself, there are many options, as long as the requirements – clear view and aesthetics – are met. For example, LiDAR could be placed in the top or the bottom of B-pillars, behind rear windows, in side-view mirrors, in a sensor strip under the roof, in the turn indicator. There are many "openings", and the module size is the foundation of its easy integration. It also offers the ability to split the coverage of the overall FOV through a set of modules placed around the car: something that has a significant space overhead with mechanical-based LiDAR.
Yole: Lighting is becoming more and more horizontal in cars, both at the front and rear, and is increasingly used for communication. Are lighting components more suitable to integrate new functionalities like sensors or small displays? What is changing in the expertise and knowledge of lighting suppliers?
FG: While we see regulatory functions taking less space in front and rear lamps with the greater efficiency of LEDs, more narrow and wide light strips are beneficial for LiDAR. LiDAR does not need a large front window to look through. Light strips can be segmented, and certain areas can be allocated to LiDAR. Also, heat-generating components can be better combined.
EVs help limit the competition for space in the engine bay for headlamps, and they will undoubtedly have more space on the grille when an air intake is no longer required. As for rear lamps, historically, they have less space allocated, and the small volume of our LiDAR modules facilitates their integration.
There is also a growing trend in grille illumination and animation or extended illuminations bars. All these surfaces give more opportunities for smart-sensor integration, aided with the help of innovative base material suppliers.
Overall, lights will have a double function: not just sending out light (and signals), but also capturing light (and signals). Some new possibilities are also to be expected in this area: the automotive light industry should therefore expect good business opportunities.
Read the full interview here