XenomatiX secures contract to assess the status of bike lanes
02.11.23 LEUVEN – XenomatiX, a developer of true-solid-state LiDAR technology, has recently secured a contract with AWV (Agentschap voor Wegen en Verkeer), the agency responsible for roads and traffic in Flanders, Belgium. The project focuses on the Province of Flemish-Brabant and part of Antwerp with an extensive network of cycling lanes. 
This project aims to comprehensively map the quality of 1875 kilometers of bike lanes, reinforcing the Flemish Region commitment to safer and more accessible cycling infrastructure, now and further in the future. 
Cycling has gained significant prominence as a mode of transportation across the country, making the comfort and safety of its cyclists a top priority. This collaborative project between XenomatiX and AWV intends to prepare for new standards in bike lane comfort, safety, and accessibility, ensuring and supporting the way to a sustainable environment. 
The project, launched in October, is to be completed by the end of 2023. This timeline allows for thorough data collection and analysis using the latest lidar technology, XenoTrack. 
XenoTrack, XenomatiX' road lidar, takes centre stage in this initiative as an alternative to more traditional lasers. The road lidar provides highly precise and reliable 3D digital maps of the complete bike lane surface and automatically calculates evenness scores as quality measures according to the OCW methodology. By digitizing the complete bike lane surface, XenoTrack can pinpoint potential hazards, and pavement irregularities, detect obstacles and identify areas within the existing bike lane network that require improvements. Both the digitized bike lanes and the calculated quality measures are accessible to the AWV employees for planning and budgeting.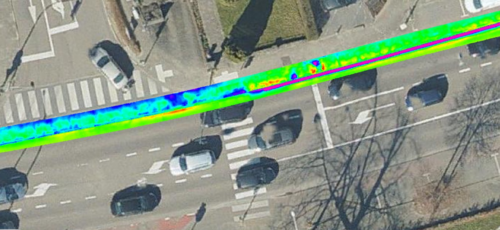 AWV will leverage this data to allocate budgets for the bicycle lane network in the plan for the coming years. This will involve the construction of new bike lanes, the enhancement of existing ones, and the implementation of comfort and safety measures across the region. 
AWV is setting the standard for regions worldwide and XenomatiX is proud to be their chosen partner in this journey.