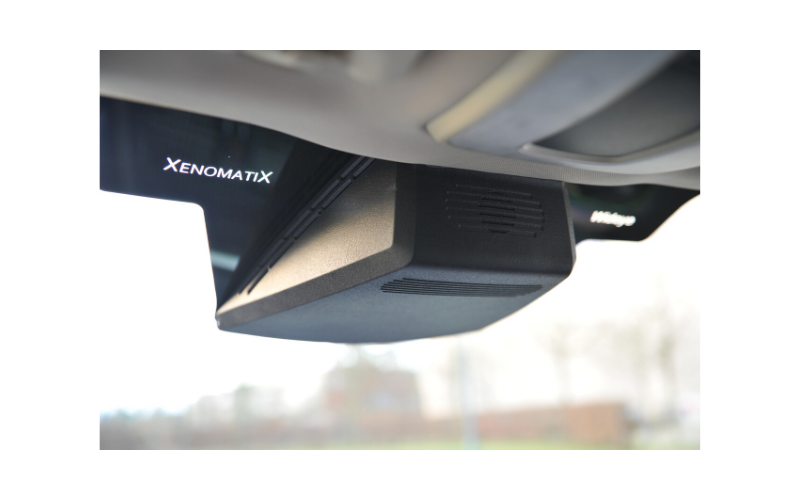 LiDAR behind a windshield
XenomatiX, leading provider of true solid-state LiDAR technology and AGC, creator of multi-functional automotive glazing technology, partner together to build the next generation of integrated LiDAR sensors for ADAS and autonomous driving.
To meet the growing demand for autonomous vehicles, these leading technology providers work together on LiDAR placement that meets automotive requirements while assuring reliable detection. XenomatiX and AGC Automotive Europe have developed a windshield-mounted LiDAR system enabling self-driving cars to move from a prototype look & feel to a complete consumer design aspect!
The true solid-state nature of XenoLidar, XenomatiX' high performance LiDAR, enables seamless integration behind a vehicle's windshield. The absence of moving parts, the low power consumption and the multi-beam concept harmonise perfectly with the WideyeTM windshields offering zero IR absorption combined with a clear view.
"Integrating XenoLidar behind front and rear windows is an important step towards higher levels of automation for mass production cars", said Filip Geuens, CEO of XenomatiX. "We are proud AGC selected XenomatiX for a collaboration related to their LiDAR-optimized WideyeTM windshield."
AGC Automotive Europe CEO, Jean Marc Meunier added: "We are pleased to offer WideyeTM, and the first windshield transparent for infrared LiDAR light. This way we tackle multiple concerns from car manufacturers on LiDAR integration, like cleaning the sensor, protecting it, wiring it efficiently, etc…" Mr Meunier also said: "XenomatiX' concept matches very well with our WideyeTM windshield. Bringing together our expertise will enable car manufacturers to add LiDAR to cars in a clean and trustworthy way."
Today, the XenoLidar-Wideye integration is at the final stage of joint R&D. Soon Original Equipment Manufacturers (OEM) will be involved in bringing this solution to serial cars, trucks and buses. Keep an eye out for this breakthrough integration.