XenoLidar

Reliable long range object detection and tracking
XenoLidar is a true solid-state LiDAR that meets the highest automotive requirements. The technologically advanced, low power, multi-beam sensor monitors and analyzes a vehicle's surroundings in real-time.
With a measurement range of 200m and a field-of-view of 30° x 10°, XenoLidar delivers unequalled long range object detection and tracking. The XenoWare software captures superior density 3D point clouds and 2D images, resulting in rich data about the object position, movement and distance to the vehicle. Watch this short animation to see how XenoLidar delivers high density point clouds.
Based on proven semiconductor components, XenoLidar guarantees unequalled performance, operability and reliability.
XenoLidar Highway Metrics
Long range detection: up to 200m

Data output rate: 25 H

Field-of-view: 30° x 10°

Laser classification: Class 1

Resolution: 0,2°
XenoLidar Key Features
true solid-state LiDAR (no moving parts);

highly compact sensing device;

integration at various locations including the windshield;

combining 3D point clouds & 2D images;

high resolution and superior density;

resilient to all light & weather conditions;

long life expectancy and high durability.
XenoTrack
Smart LiDAR for precise real-time road measurements
XenoTrack is an effective and reliable short-range 3D road measurement tool that delivers highly precise and accurate data while remaining overly easy to use. XenoTrack is a true solid-state LiDAR with a unique laser projection and triangulation based distance calculation technology that guarantees the most accurate metrology grade data.
Directly mounted on the vehicle in just a few simple steps, the smart LiDAR sensor takes up to 180.000 measurement points per second, at any place and in real-time. The intuitive graphical user interface makes it easy to configure and operate the system.
XenoWare software
The XenoWare software is able to collect a large, dense set of data relatively quickly. The captured data can be used for various calculation and analysis for roads & highways such as road profile analysis, road damage assessment, along with crack patterns and road markings. The data can be viewed in real-time or exported and consulted afterwards for further interpretation and analysis.
XenoTrack is primarily used for road preview for active suspension, 3D road digitization, road classification and small object localization.
XenoTrack Metrics
Accuracy of height measurement: <2mm
Measurement points: up to 180.000 points / sec
Frame rate: 60 Hz
XenoTrack Key Features
true solid-state LiDAR (no moving parts);
versatile sensing device for 3D road digitization;
short-range road surface measurement;
road quality assessment;
laser triangulation sensor that delivers highly accurate metrology grade data.
XenoWare

To implement your vision applications of choice
The XenoWare software uses an open API and provides output formats compliant to automotive standards allowing your development team to use the raw data for developing their own application(s).
Data transfer via RS232, CAN or ethernet
Control via an ethernet connection
Raw geometrical data and intensity maps
Replay mode for offline system use and data analysis
Parallel video recording for visual documentation
Managing the interface to the car's control unit
6 dimensional data
position (X,Y,Z) for all measurement points;
intensity information;
mapping onto 2D visual image;
evolution of these parameters in time.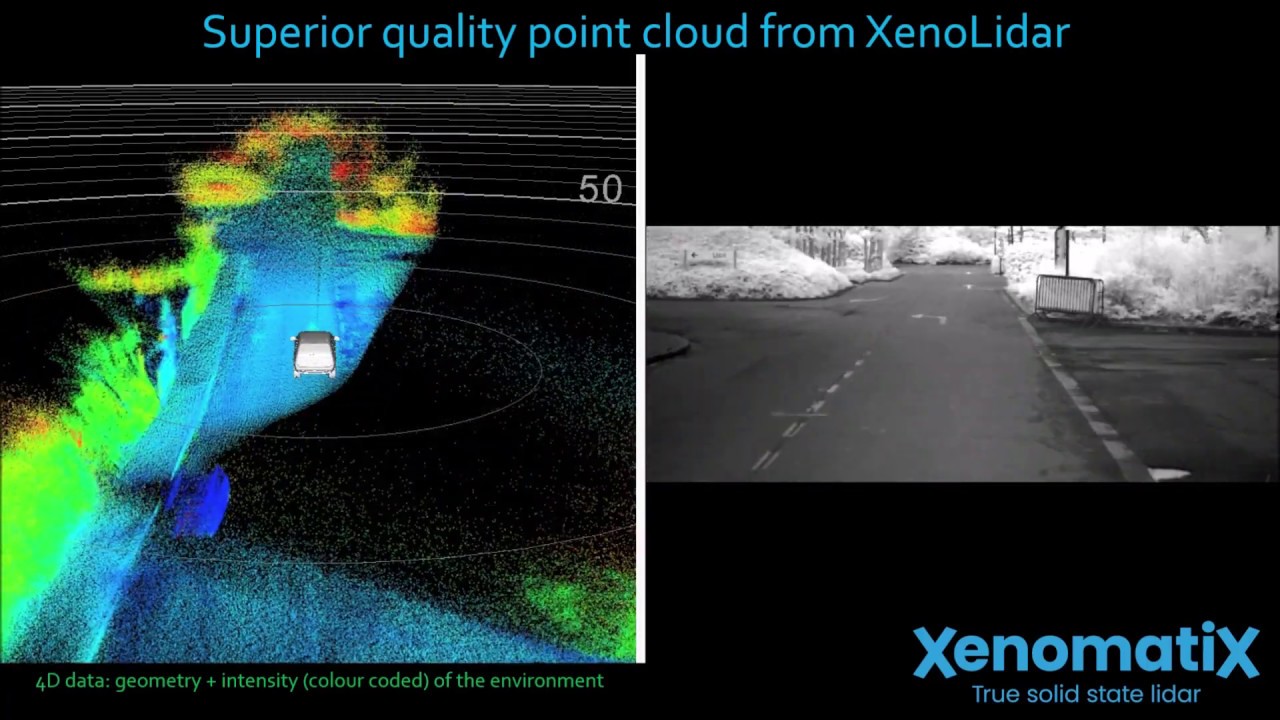 Engineering Services
Expertise to make your vision project excel
The XenomatiX engineering team can provide exquisite development and integration services for your optical sensing projects. Services that are offered go from mathematical modeling, to full integration and design services making the sensor adjusted to your application needs.
The XenomatiX vision sensors offer the flexibility to be used on a variety of vehicles and for a multitude of applications. We digitize tracks, rent XenoLidar and XenoTrack systems, run test campaigns, participate in application development or customize the system to optimize your application.
Our engineers are happy to work together with your experts to find the best solution and to make your application excel.
Our LiDAR can be fully integrated behind the windshield, check this video for more info.